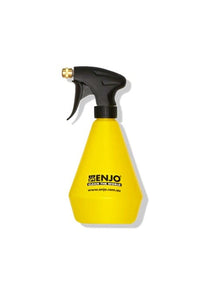 SPRAY BOTTLE 500ML
Spraying function adjustable from fine mist to jet stream
Ergonomic shape lies perfectly in the hand
The Spray bottle is used for spraying (dampening) Fibers and smaller surfaces. With the 360° system you can spray also over-head and in all directions.

Use
Fill the Spray bottle with approx. 0,5 l of water. The nozzle can be adjusted by twisting. Water will be distributed, depending on the adjustment of the nozzle, from a fine mist to a jet stream when the black handle is pressed.
Do not put highly concentrated or harsh chemicals into the Spray bottle. Also when the bottle is empty water rests can be left in the tube. Therefore we recommend to close the nozzle if the Spray bottle is stored in laying position. The hoses for the Spray- and Pump bottle can react sensitively on scent oil. The hose may become discolored or even damaged. Therefore we kindly ask you to not use any fragrance oils for your Spray- & Pump bottle. The Spray bottle is not food safe.