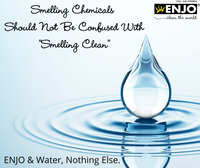 ENJO & Water, Nothing Else.
ENJO (pronounced en-yo) is a chemical-free, waste-free cleaning systems. For 30 years, ENJO has been proving all over the globe that cleaning doesn't require chemicals. Treating cleaning as a mechanical process, the technology of the ENJOtex Fibers is outperforming the chemistry of tradtional cleaning methods, using only water. Lasting for up to 3 years, ENJO is non-toxic, environmentally friendly, and easy to use. There's no compromomising your cleanliness, or your health, with ENJO. 
New to ENJO? Let's Chat!
ENJO product are very easy to use, but use and care are different to traditional cleaning methods. A quick tutorial will help you get the most out of your products. Whether you'd like a quick rundown of the basics, a visual demo explaining how it works, or a group learning experience where you can earn great rewards and discounts, we've got an option that's just right for you! Informational calls are FREE with no obligation to buy. 
I'd like to learn more!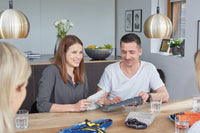 "I'm so glad I jumped in with two feet to ENJO. The Floor System was my first love. Quickly followed by cleaning my bathrooms and my kitchen and falling in love with both of those sets as well.  I am beyond impressed. BEYOND!!" 
These are literally life saving. No more asphyxiation from the chemicals or destroying the stone and marble. I love my bathroom set.
My Kitchen is cleaner than ever with ENJO and I now am able to clean easily and often. Love my new kitchen set. I am also so grateful for the floor system. Everything is so easy and no chemicals just water.
I have many very large windows and they came up crystal clear and so quick to clean. No more hiring companies to clean my windows. So impressed !!!
I love my ENJO floor system. When my cleaning lady came I had to be out of the house because I was so allergic to the chemicals. My floor was always sticky, I am always barefoot in my house. Now that I clean my floors with ENJO they look better than ever and no stickiness. I clean almost everything with ENJO and It's a faster and easier way to clean..
You guys - this product is amazing. Just water and the ENJO cloths and my car is sparkling - no harsh chemicals or even soap needed. No streaks or smears. Thank you for introducing me to ENJO! We all need to be doing something for our poor planet right now.
The dusting cloth must be made by elves. It's magic!!