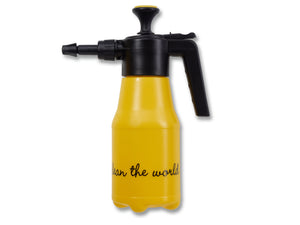 PUMPBOTTLE 1000ML
360° spraying function thanks to elastic water tube
Fixation possibility for permanent spraying function
The Pumpbottle 1000ml, incorporating the pressure pump, is intended
for large areas. Large floor and wall areas can be sprayed effortlessly with this system.

Use
Unscrew pump head and fill to no more than the indicated maximum waterline. Line up pump and screw on tightly. Hold Pumpbottle 1000ml and press pump piston several times up and down (for the maximum fill quantity approx. 10 pump motions are sufficient to create an ideal pressure). The spray nozzle can be adjusted by twisting the yellow screw from fine stream to mist. Water can be distributed on the surface simply by pressing the black lever on the handle. Fixation for permanent spraying function: Press the black lever down and fixate with the black hook. To stop the permanent spraying function press down the black lever again. Once the pressure eases it can be increased again by pumping of the piston. With the 360° system you can spray also overhead and in all directions.
Always store the Pumpbottle 1000ml with no pressure (release pressure through nozzle). Don't put any highly concentrated or harsh chemicals into the Pumpbottle 1000ml. The hoses for the Spray- and Pumpbottle can react sensitively on scent oil. The hose may become discoloured or even damaged. Therefore we kindly ask you to not use any fragrance oils for your Spray- & Pumpbottle.