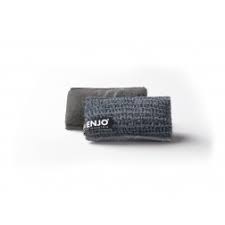 OUTDOOR SPONGE
A convenient size for spot-on cleaning
Tiled stoves and wood burners with soot-free viewing panels
• Outdoor areas
• Small gardening equipment, sports equipment and tools
• Viewing panels on tiled stove and wood burners
• Small children's toys
• Planters, sculptures and fountains
• Barbecue stands and grills
• Headstones
• Pet grooming

Use
Damp to wet

Loosen very stubborn dirt with the mottled black and grey fibre. The dark grey fibre collects the dirt.
For very stubborn dirt and stains, use in combination with Marble Paste. The Outdoor Sponge is also suitable for grooming pets. Use the mottled black and grey fibre without water to brush out dirt and loose hair. Any remaining hair and dirt can then be removed with the dry dark grey fibre. For the sensitive areas around the face we recommend the Dust Glove.
Do not use on painted surfaces! Do not use on hot items, otherwise the fibre will melt.