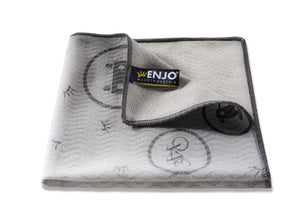 OUTDOOR ENJOFIL
Special surface treatment on the rough side for maximum absorbency
Chrome steel polished to a shine
Use to dry and shine surface after cleaning with Outdoor Glove/DuoGlove

• Outdoor areas
• Cars, bikes, and quad bikes
• Tools
• Sports equipment
• Children's trikes, go-karts, etc.
• Garden furniture
• Plastic windows
• Blinds
• Tents and tarpaulins
• Trainers and walking shoes

Use
Dry to damp

Use the Outdoor ENJOfil to dry without leaving streaks.
Shake briefly after washing in the machine. When using to wipe dry, fold the cloth two or three times across the middle to create eight or 16 areas of cloth surface to dry with.
This delicate ENJO fibre may be torn by sharp edges or rough surfaces. If this happens, small holes may appear, but these do not affect the performance of the cloth.