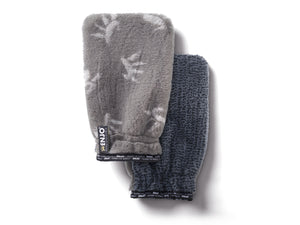 OUTDOOR DUOGLOVE
Excellent for those tough and dirty outdoor jobs!
Ideal combination of fibers for versatile outdoor use
Moss and algae can be removed without trace
• Outdoor areas
• Sports equipment
• Boats
• Children's toys (slides, trampolines, etc.)
• Gardening equipment (spades, lawn mowers, etc.)
• Swimming pools and whirlpool baths
• Cold frames, greenhouses, conservatories
• Planters, sculptures and fountains
• Barbecues and grills
• Garage doors
• Headstones
• Pet grooming

Use
Damp to wet

Loosen very stubborn dirt with the mottled black and grey fibre. The dark grey fibre collects the dirt.
Use the mottled black and grey fiber to clean a blanket of algae from the hull of a boat. For very stubborn dirt and stains, use in combination with Marble Paste. The Outdoor DuoGlove is also suitable for pet grooming. Use the mottled black and grey fiber without water to brush out dirt and loose hair. Any remaining hair and dirt can then be removed with the dry dark grey fiber. For the sensitive areas around the face we recommend the Dust Glove.
DO NOT USE ON PAINTED SURFACES! Do not use on hot items, otherwise the fiber will melt.