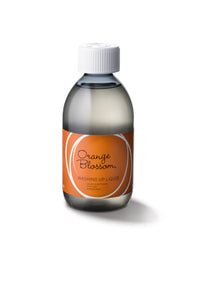 ORANGE BLOSSOM. REAL SOAP 300ML
Strong cleaning power and nourishing effect
Tough on grease for cleaning in the kitchen
• Extractor hoods and ovens
• Washing-up (burnt-in)
• Fabrics
• Upholstered furniture and carpeted floors
• Dull old parquet floors
• Laminate and bamboo flooring
• Natural stone (marble, granite, etc.)
• Car paint and chrome-plated parts

Use
A small amount of Real Soap goes a long way.

Apply one drop of Real Soap on the ENJO fiber and clean the respective surface. Rinse with water, then dry using an ENJOfil.

For spots on textiles, work in a circular motion from outside to inside.

If required, increase the number of drops.

To clean dull parquet or laminate flooring, add 5-10 drops of Real Soap to 0.5-1 litre of water in the ENJO Spray- or Pumpbottle.
Before washing, apply ENJO's Real Soap to the collars of shirts and blouses to remove traces of sweat and make-up as well as pre-treatment for stubborn dirt.
Stubborn dirt (cigarette smoke, soot, etc.) can be cleaned using the appropriate wet ENJO fiber and a few drops of Real Soap.
A few drops of Real Soap on the Outdoor Glove makes it easier to clean heavily stained car windows and paintwork, making them sparkle with an extra shine.
Keep out of the reach of children. Store in a cool, dry place away from light.
Do not leave to act on Corian. Test on a hidden area before use.
Since the Real Soap is made from natural ingredients, the color and viscosity may vary. This has no effect on the quality of the product.