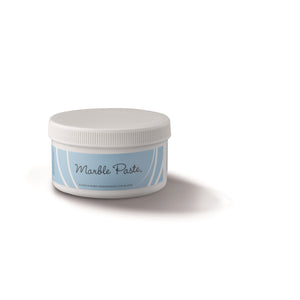 MARBLE POWER. CLEANING PASTE 500G/300ML
Marble powder for a natural abrasive action
Polishing effect without scratching the surface
• Metals (stainless steel etc.)
• Ceramic hobs and ovens
• Extractor hoods
• Plastic basins
• Pots, baking trays, oven dishes
• Grills
• Chrome-plated items
• Plastic, wooden and metal garden furniture
• Bathroom grout

Use
A small amount of Marble Paste goes a long way.

Take out the Marble Paste with the damp ENJO fibre and treat the surface to be cleaned. Rinse well after cleaning and dry with the ENJOfil.
Marble Paste is ideal for deep cleaning. Households making the switch to cleaning using the ENJO method often experience problems with heavy chemical residue on surface (Formica, stainless steel etc.).

Our Marble Paste can also be used to clean rust stains, break dust and oxidized coatings.
Keep out of the reach of children. Store in a cool, dry place away from light.

Do not keep Marble Paste too wet and do not screw the lid back on tightly at once. Allow the paste to dry out again in the air. Failing to do so may cause organic mould growth that has to be removed in large patches.

Do not use on delicate or finely coated surfaces such as Perspex or plated silver as well as bathroom ceramics with a special coating (lotus effect).

Do not leave to act on Corian. Test on a hidden area before use.