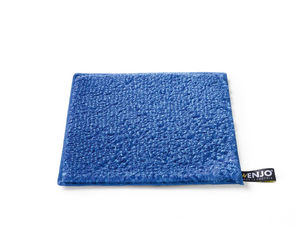 An all-rounder for every room of the house
Door and window frames clean for a long time
Our all-round product for quick and thorough cleaning.
Hints:
• Picture frames and ornaments
• Lamps and candlesticks
• Furniture
• Window frames, sills and handles
• Doors, door frames and handles
• Radiators
• Blinds
• Tables and chairs
• Toys
Use Damp to wet To achieve the best cleaning results, the fibre should be slightly damp (moisten with water using the Spraybottle). After cleaning wet, wipe dry with the Living ENJOfil. 
Hints:
For very stubborn dirt such as marks on window frames, it is also possible to clean using a little Washing Up Liquid: add a few drops of Washing Up Liquid to the Living Medium Cloth and apply the soap evenly on the window frame using circular movements. Leave the soap to act for three minutes. Rinse the Living Medium Cloth and remove the loosened dirt.
Notes:
Do not use on oiled surfaces