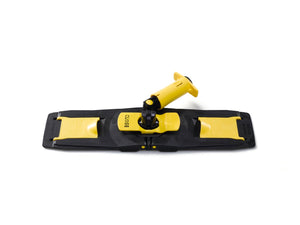 FLOORCLEANER PLATE
High quality 360° joint
Patented locking mechanism for improved safety when standing and being used
• Floors
• Ceilings
• Doors
• Tiled walls
• Conservatories
• Lorries and buses
• Boats

Use
Use the Floorcleaner Plate in combination with the Telescopic Pole.

To connect the Floorcleaner Plate and Telescopic Pole: Place the Floorcleaner Plate on the floor with the yellow shaft fixed in the lower position. Insert the Telescopic Pole firmly and twist until the spring pin locks into place. Use your foot to press the Close/Open control so that the clamp is in the 'Open' position and raise the Telescopic Pole into the air. The Floorcleaner Plate will open so you can feed in the ENJO fibre lying on the ground. Tread on the Close/Open control again so that the clamp closes and push the yellow shaft upwards with your foot. Then adjust the height of the Telescopic Pole so that it is level with your nose and chin before cleaning the floor in figure-of-eight movements as you walk backwards.

When cleaning overhead, please clamp the plate in place with the yellow shaft in the lower position so that the Floorcleaner Plate cannot become detached from the Telescopic Pole.
To maintain the fluid movement of the Floorcleaner Plate, rinse the tool with a strong jet of hot water once or twice a year. Do not use a pressure washer.
If the clamp is closed by mistake when the control is in the open position, always press the open control again to avoid blocking the blade.