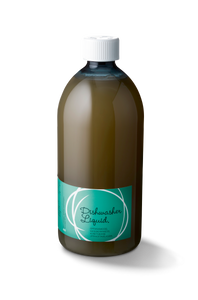 DISHWASHER LIQUID 1000ML
Dishes are cleaned toxic-free!
Suitable for all common dishwasher machines and programs
• Dishwasher machine

Use
A small amount of Dishwasher Liquid goes a long way.

Add one tablespoon of Dishwasher Liquid (equates to 10-15ml) directly to the dosage chamber of your dishwasher machine.
You will be able to modify amounts from 5-20ml depending on your machine, water hardness and dirt levels.

Rinse Aid & Regenerating salt
Keep on using the rinse aid and regenerating salt. This prevents water spots on the dishes and protects your machine.

In order to keep the dosage amount as low as possible, remove food residues beforehand with the Kitchen Duocloth, place the dishes accurately in the machine and choose a suitable programme.
Keep out of the reach of children. Store in a cool, dry place away from light.

Since the Dishwasher Liquid is made from natural ingredients, the color and viscosity may vary. This has no effect on the quality of the product.

If you need a drop of soap for very fatty dishes which you want to wash by hand, please use our Orange Blossom. Real Soap. The pH-value of our Wheat Power. Dishwasher Liquid is not designed for hand washing.