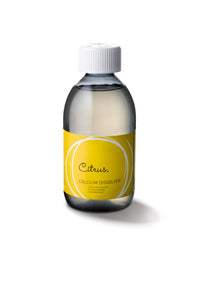 CITRUS BLOSSOM. CALCIUM DISSOLVER 300ML
Limescale deposits quickly and effectively removed
Corrosion protection
• Bathrooms, shower rooms, laundry rooms

Use
A small amount of Calcium Dissolver goes a long way.

Apply a few drops of Calcium Dissolver with the ENJO fibre to the surface to be treated and leave to act for a few minutes. Rinse with plenty of water and wipe dry with the ENJOfil.
In case of strong calcium deposits, put a few drops of Calcium Dissolver directly on the surface and allow to work for an hour. Then wipe clean with the respective ENJO fibre.

To remove urine scale and limescale deposits from the toilet pan, add 1-2 tablespoons of Calcium Dissolver to the water at the bottom and allow to work for two hours. Then wipe clean with the Bathroom Flexi Fibre 25cm and flush.

Limescale stains on vases can be removed with some cold water using the Kitchen Duoglove or Kitchen Maid and a drop of Calcium Dissolver.
Keep out of the reach of children. Store in a cool, dry place away from light.

Do not leave to act on delicate surfaces (especially on marble or other calcareous stone surfaces). Test on a hidden area before use.

Do not use on Corian .

Do not use with chlorine cleaners.

Since the Calcium Dissolver is made from natural ingredients, the colour and viscosity may vary. This has no effect on the quality of the product.