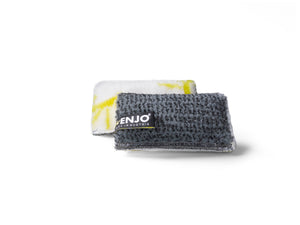 BATHROOM SPONGE
The specialist for tiles
Stubborn dirt removed quickly and gently
Use wet – Dry afterwards with Bathroom ENJOfil
• Bathrooms, shower rooms, laundry rooms
• Tiles and grout
• Taps

Use
Damp to wet

The grey and black extreme side loosens stubborn dirt. The white side collects and removes dirt.
The Bathroom Sponge is ideal for cleaning discolored grout between tiles. For heavy limescale deposits, we recommend using the Bathroom Sponge together with a few drops of Calcium Dissolver.
Do not use on hot items, otherwise the fiber will melt. Machine washable; wash in ENJO Delicates Laundry Bag; air dry; NO Bleach, NO Fabric Softener, NO Tumble Dryer.