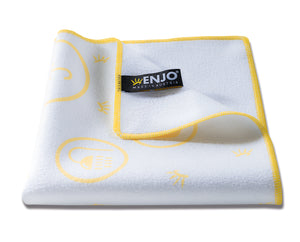 BATHROOM ENJOFIL
Sparkling results with our super-absorbent, streak-free drying cloth.
No streaks or spots on taps, glass, or mirrors
Water absorbency of a high level
• Bathrooms, shower rooms, laundry rooms
• Chrome-plated items
• Glass panels and cabinets
• Mirrors

Use
Dry

Use the Bathroom ENJOfil to dry without leaving streaks.
Shake briefly after washing in the
machine.

Fold the cloth two or three times across the middle to create eight or 16 areas of cloth surface to dry with.
The delicate Bathroom ENJOfil may be torn by sharp edges or rough surfaces, creating small holes. This does not affect the function of the cloth.
Do not use on hot items, otherwise the fiber will melt. Machine washable; wash in ENJO Delicates Laundry Bag; air dry; NO Bleach, NO Fabric Softener, NO Tumble Dryer.