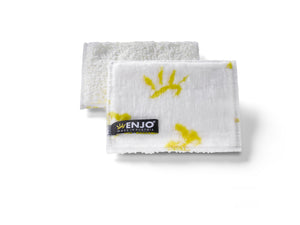 BATHROOM DUOCLOTH
A must in every guest bathroom
Great size for small basins and mirrors
To use, simply Wet, Wipe, Dry. Must be used in combination with Bathroom ENJOfil. Not intended for a la carte purchase, unless adding to an existing Bathroom Set
Use wet – Dry afterwards with Bathroom ENJOfil
• Bathrooms and guest toilets
• Bathtubs and showers
• Tiles and grout
• Basins
• Toilets and cisterns

Use
Damp to wet

White side for damp or wet cleaning. Mottled side for wiping dry and cleaning polished surfaces or delicate materials such as marble and acrylic.
Very hard water can act like sandpaper on the surface to be cleaned and leave scratches on delicate materials (e.g. Plexiglas). In such cases, first treat the surface with Calcium Dissolver.
Do not use on hot items, otherwise the fiber will melt. Machine washable; wash in ENJO Delicates Laundry Bag; air dry; NO Bleach, NO Fabric Softener, NO Tumble Dryer.